Step 1: Build a Proposal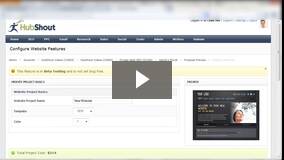 Getting started with the HubShout Website Reseller program is easy. Using our online proposal builder, choose the template, elements and features for the website. As you add features to the website, the proposal builder displays the price. Select whether you will provide the content and graphics or have our team of professional writers and designers create custom content and graphics for an extra fee.
Once you are satisfied with the proposal, upload your company name and logo and the final price for your customers. The Proposal Builder gives you control to determine how much you want to charge your customers for the website. When you are ready, activate your private-label proposal and it's immediately sent to your client.
Template Library

Access a large library of templates and new designs added each month. We have the perfect template for your customers.
Page Layouts

Each webpage can use the standard layout or one of 30 advanced layouts. Pick the location of widgets and features.
Template Colors

Select from up to 8 color palettes for each template. You'll find one that suits your client's branding.
Website Features

Choose from our toolkit of website features to get the right functionality on every page.
Manage Sales Funnel

The status of every proposal is at your fingertips. See which proposals are in draft, review or ready for requirements.
Quick Turnaround

Get an instant price. Add or remove website features on the fly. You'll never have to wait for an estimate again.
Set Your Price

Take our wholesale price and mark it up to your retail price. You can even add a description of extra services you'll provide.
Private Label Proposal

Start with our proven proposal copy and customize for your business. Get proposals out the door faster than ever.